When choosing the right coaxial cable to wire-up an AV system, we frequently come across the RG6 and RG11 designations. RG Coaxial Cables are extensively utilized in Telecom projects as well as daily civil applications. RG Coaxial Cables include various types in which the most common model are RG6, RG11, and RG9 Coaxial Cables. How different are these three types? It will be explained below.
What are RG coaxial cables? 
RG Coaxial cables are the kind of coaxial cables utilized for efficient transmission solutions for Telecom systems that include Satellite communication, Marine, Mobile communication, the AM, FM, Inbuilding, and Radar Communication systems, video, and more.
Are RG11 and  RG6 different?
RG6 Coaxial Cables are applied for Baseband near signal transmission distance, frequently used as a cable branch to transmit observing camera data and connect Indoor Television Equipment.
RG11 Coaxial Cables are utilized for Wide Broadband with considerable signal transmission distance, generally used as the main cable line in transmitting observing camera data, Cable Television, etc.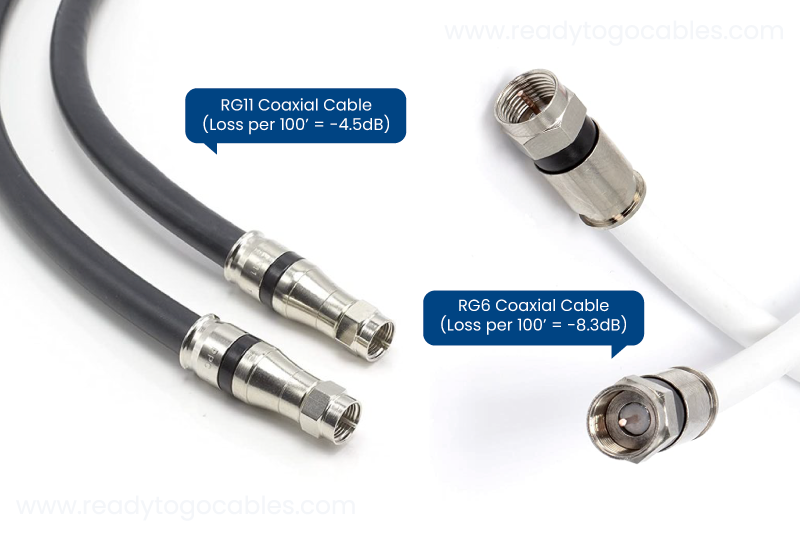 RG59 Flexible Coaxial Cables: With the feature of intertwined multi – small fibers that make the fibers flexible; consequently, this is a variety of Coaxial Cables that is mainly utilized for observing cameras in elevators, generally used for the analog camera.
RG11 and RG6 Coaxial Cables have similar applications and functions, but they are not the same, and some differences have to be considered before picking one over the other. So, what is the difference between them?
RG11 coaxial cable has a lower attenuation level compared to RG6 

RG11 can transmit signals in a lower frequency range than RG6 coaxial cable.

Since RG11 has a lower attenuation level, it can transmit at a longer distance: RG6 can transmit signal at a distance of 600m, RG11 can transmit at a distance of 1,100m
Disadvantages of the RG11
The main disadvantage of the RG11 coaxial cable is its high price because the bigger thickness of cable fibers and conductor wire makes materials higher.  More materials direct translate to a more expensive cost to manufacture. That's the reason why RG6 is cheaper than RG11 coaxial cables. The price increase can sum up pretty fast as it is usually utilized for long distances.
Another weak point of the RG11 coaxial cable is the lack of flexibility which is produced by the thickness of fibers; it makes the employment of RG11 cables in typical home connections extremely challenging, if not impossible. RG11 Coaxial Cables cannot bend so much with different angles, so RG11 is often used as the mainline in connecting two points at a long distance. On the contrary,  The RG6  coaxial cable is a lot better for this, and that is the reason why it is usually preferred for in-home installations.
If you already have bought the RG11 coaxial cable but require the RG6, it is entirely safe to use the RG11 cable in its place and expect no loss of signal quality. The opposite is not always true as, based on the signal being carried, the RG6 coaxial cable may or may not suffice.
If you would like to receive a quote for any of custom cables or connectors, please do not hesitate to contact us by sending an email to [email protected] or calling in the USA this phone number (682-325-1944).